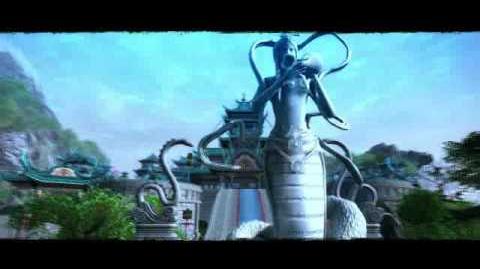 The Divine Water Palace, once one of the eight reclusive factions, has now resurfaced to uphold peace and stability in the region. The precious Divine Water is a panacea against all kinds of insect venoms.
The Divine Water Palace is one of eight Subsects in the game. Like Emei, they only allows female characters to join their ranks.
Internal Skills
Edit
Divine Water Palace's 1st Internal skill. Shoots damaging water bubbles at enemies.
Attribute: Yin and Soft
Max Level: 49
Divine Water Palace's 2nd Internal skill. Buffs the user and debuffs the enemy.
Attribute: Yin and Soft
At level 48 third affect activated shifting tidal wave (health regeneration)
at level 52 is it possible to entry qinqyao palace, Desert ghost town and hidden valley
Max Level: 72
Martial Arts
Edit
Requirements
Edit
Must not be bountied.
Must not be drunk or undressed.
Must not be a constable.
Must not be a kidnapper.
Must not have any killer titles.
Must have zero infamy.
Must be female.
Must be Emei or without a school.
Must not be an elder, deacon or headmaster in a school.
Must not have betrayed the Divine Water Palace in the last 24 days.
Must have Sinister or Lunatic alignment.
Must have Spiritually Balanced or higher strength.
Must have learned at least 5 types of Flying Skills.
Must have learned at least one Yin/Soft Internal Skill.
Must not have learned the Sunflower Manual Internal Skill.
Players who have learned Sunflower Manual Internal Skill can do a 7-day quest located in Jinling (1151, 544) to erase it.
How to Join
Edit
If you're an Emei:
Talk to Emei School's Headmaster to get the entry quest.
Finish the quest.
If you're not an Emei:
Leave your school by one of the normal 3 methods (betray/train away/incognito). Players in Factions must graduate or betray the Faction.
If you meet the requirements, the entry quest will be randomly sent to your mail.
Finish the quest.
meditation 10
patrol 10
getting fruit 2
planting 2
sparring 1
total per day 25
weekly quest
Edit
school fraction 20 tokens
catsh fish 30 tokens
semester 15 tokens
chasing monkey away 30 tokens
hotspring 15 tokens
fight the enemy 15 tokens
cultivation 15 tokens
total tokens per week 140
weekly quest (team)
school tournament
moa raiders 30
pirate crises 30
Community content is available under
CC-BY-SA
unless otherwise noted.