Guxi twin dagger is a set from new world.
For level 1 2 and 3 need 40 fragments, 80 for 4 5 6, 180 for level 7-8 and 240 for level 9 and 10...
In total need 1.200 fragments for get the set full to level 10.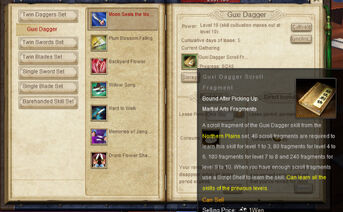 When have enough fragments (40) for level 1, click the button "Storage" after that click the button "Cultivate" and the rent or buyout option will appear.
There is 2 way for use the set, the first is to pay 99 gold and the second is to use copper coins for rent it everyday.
1 Copper coins = 1 day... After rent the set for 45 days, the buyout button will be available and the set will be automaticaly free!
The same mechanism works for other new world set.
Guxi twin dagger is internal, the attributes is yin, scalled by breath.
Community content is available under
CC-BY-SA
unless otherwise noted.