This article is in need of a clean-up. You can help out Age of Wushu Wiki by re-organizing parts of the article, checking grammar and spelling, and doing other helpful things to correct the article.

Reason: Page needs better layout
An Online Gift Pack is an event item that gives players rewards based on their login time. To be opened they have to be right-clicked.
They come in three similar forms: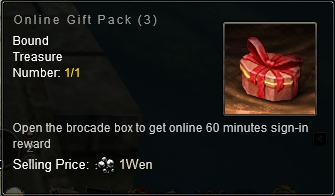 This item is bound
This item cannot be sold
Max Stack: 1
Obtained from
[
]