Introduction
Edit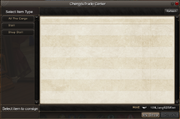 The Trade Center is part of the player economy system. This is where items from other players can be bought without visiting individual stalls. In order to buy something, players need Silver Taels and they have to be anywhere in a scene which allows the opening of stalls. The Trade Center interface can be opened by pressing the keyboard shortcut (defaults to V) or clicking the icon in the lower right corner. It depicts available goods the current scene the player is in. There is no global Trade Center.
In the upper left corner three options for items searching are present. In the lower right corner the amount of Silver Taels the player has is shown.
All The Cargo lets players look up items of all the current scene's player stalls in a categorical manner.
Stall shows a list of individual players' offline and online stalls.
Shop Stall shows the list of world stalls.
Items can be searched for in one of two ways: by Name and by Category and Item quality
Search by name
Edit

Enter the Name or part of it in the search field at the top of the window.
Items that are matching the entered text will show in the list below the search field.
The item names chosen are based on a case sensitive match.
Select the item to look for from the list and then press the search button.
Only the prices for one specific item at a time can be displayed this way.
Sometimes the item name will be shown twice. This happens for two reasons:
There are 2 items with the same name.
There is a defect item with the same name.
Players will have to experiment which one will show a result. If one of them is defect it's mostly the second entry in the list that works.
Search by category and item quality
Edit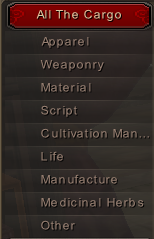 The category can be selected in the left side menu below All The Cargo.
Select a category and under the category a subcategory to show the list of items for a specific subcategory.
The item quality can be chosen by the list box to the right of the search button.
There are six levels of item quality. Only one can be selected at once.
To change the item quality you want to display for the selected subcategory choose it in the list box and press the Refresh button.
Community content is available under
CC-BY-SA
unless otherwise noted.